In a sports hall in Kazimierz Biskupi, near Konin were held the 6th Polish Championships of OYAMA PKF in Full Contact Karate, organized by Koniński Klub Sztuk Walki (Konin Martial Arts Club) with its leader Sensei Stanisław Kamocki.
The competition was held under the patronage of Shihan Jana Dyducha, the director of OYAMA PKF and Mr Janusz Puszkarka, Mayor of the Minicipality of Kazimierz Biskupi. 58 female and male fighters representing 18 OYAMA Karate Clubs took part in the competition. Sensei Paweł Pajdak 4th dan (Sosnowiec) was the head referee. Shihan Andrzej Pierzchała 5th dan, OYAMA IKF training director was also present during the competition.
In the official part of the competition, Shihan Dyduch honoured the hosts of the competition with occasional letters expressing and Sensei Krzysztof Wojewoda 3rd dan with commemorative plate due to his 35th anniversary of practising karate.

Sensei Krzysztof Wojewoda as an arbiter.
Numerous journalists from local television and press were present during the competition. During the breaks, the audience could admire some vocal performances and an impressive show performed by Sempai Jacek Malinowski.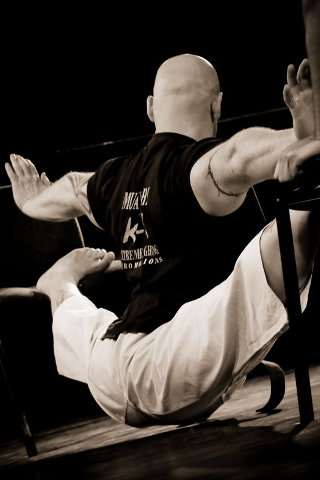 Jacek Malinowski (36 years old) doing the splits..., Photo: Robert Zawadziński

Gold medalists of Polish Championships

Under 65 kg category
1. Cieśliński Piotr, Jelenia Góra
Under 70 kg category
1. Krygier Krystian, Konin KKSW
Under 75 kg category
1. Gromadzki Tomasz, Katowice Goliat
Under 80 kg category
1. Grzesiak Michał, Ostrów Wielkopolski
Under 85 kg category
1. Kiszycki Dawid, Białystok
Under 90 kg category
1. Michalak Paweł, Słupsk
Over 90 kg category
1. Chlabicz Adam, Białystok
Female category under 60 kg
1. Mostowik Patrycja, Oświęcim
SINCERE CONGRATULATIONS AND THANK YOU, OSU !