The 19th Polish Senior and Junior OYAMA Karate Championships in KUMITE was held in Andrychow. The Embassy of Japan in Poland, Mr Tomasz Zak the Mayor of City Andrychow and Hanshi Jan Dyduch 8th dan, the President of OYAMA Polish Karate Federation took patronage over the championships. Tournament was organized by Malopolski Klub Karate and its leader Sensei Jacek Kasperek 4th dan.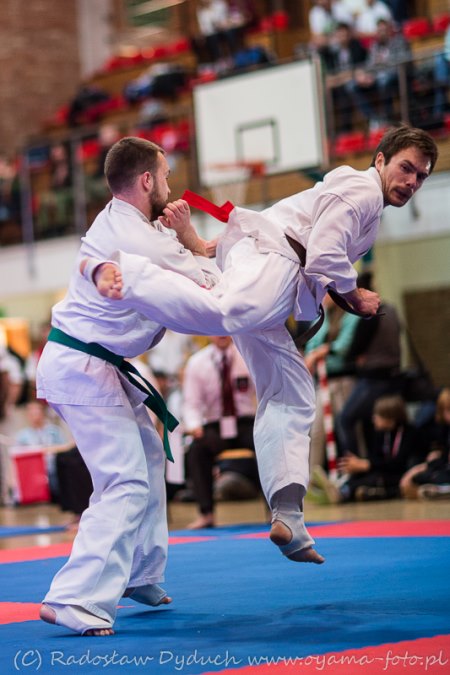 Knockdown fight. Photo Radoslaw Dyduch
Around 430 male and female fighters took part in the championships. They represented 43 leading clubs of: Oyama Karate and Kyokushinkai Tezuka Group. Shihan Andrzej Pierzchała 6th dan OYAMA IKF director of schooling division was also present during the competition. Shihan Paweł Pajdak 5th dan was the head referee.The duties of the mat referees were fulfilled by Shihan Eugeniusz Stanislawek 5th dan, Shihan Witold Choiński 5th dan, Shihan Rafał Majda 5th dan, Sensei Bogusław Plewka 4th dan and Sensei Mariusz Pawlus 4 th dan.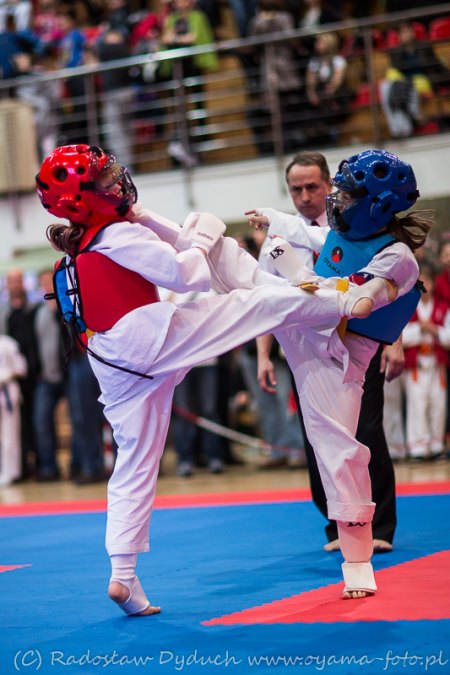 Light contact category. Photo Radoslaw Dyduch
Saturday morning started with light–contact competitions on tree tatami. Same day, afternoon was reserved for prestigious knockdown tournament. Sunday was planed for the Junior Polish Championships in Semi-knockdown. The competition was at very good sports and organizational level. The winners received nice trophies sponsored by OYAMA Polish Karate Federation. The Cups for the Best Knockdown Fighters went to Damian Krupka from Wadowice and Justyna Cyrulik from Krakow.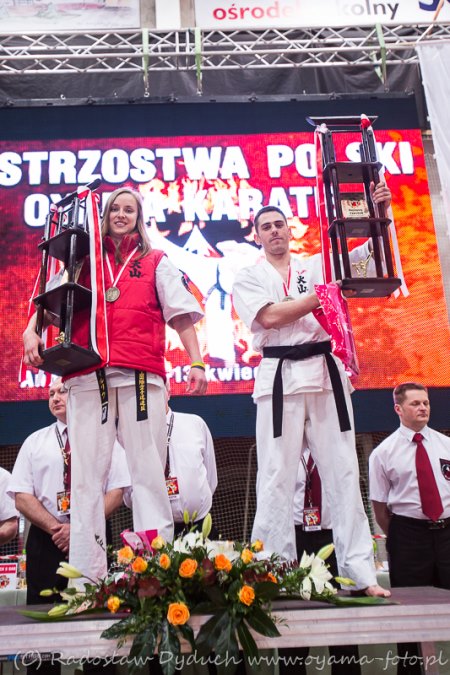 Justyna Cyrulik and Damian Krupka. photo Radoslaw Dyduch
LIGHT CONTACT (10-12 YEARS OLD)
Iga Szczygieł, Katowice – Goliat
Gniewomir Herbst, Kraków - Koyama
Amelia Tomaszewska, Lublin
Dominika Chylińska, Oświęcim
Jakub Stępień, Kraków – Koyama
Jakub Sikora, Kraków- KAS
Wojciech Cząstkiewicz, Katowice – WR1
Wiktoria Fliśnik, Kraków – Koyama
LIGHT CONTACT (12-14 YEARS OLD)
Karolina Smolec, Andrychów
Maja Wójcik, Kraków – Koyama
Patryk Błaszczyk, Katowice - Goliat
Nina Kowalczuk, Wieliczka
Łukasz Jabłoński, Katowice – Goliat
Tomasz Kusak, Warszawa SKOK
Kacper Kasperek, Wadowice
SEMI- KNOCKDOWN, JUNIORS (14-16 YEARS OLD)
Paulina Szewczyk, Sosnowiec
Patryk Fliśnik, Kraków – Koyama
Julia Gibek, Kraków- OYAMA
Robert Łaskawiec, Jelenia Góra
Karol Majewski, Kozienice
Krystian Krzywa, Strzegom
SEMI- KNOCKDOWN, JUNIORS (16-18 YEARS OLD)
Krzysztof Budzik, Katowice – Goliat
Patrycja Stanek, Katowice – Goliat
Anna Rutkowska, Warszawa SKOK
Łukasz Wiśniewski, Jelenia Góra
Michał Juźwiak, Kraków OYAMA
KNOCKDOWN (18 -22 years old)
KNOCKDOWN (18-35 years old)
Katarzyna Nowak, Piotrków Trybunalski
Aneta Jemioł, Jedlnia-Letnisko
Justyna Cyrulik, Kraków- OYAMA
Roman Misiaszek, Kraków- OYAMA
Dawid Kiszycki, Białystok
Mateusz Klocek, Kraków- OYAMA
Przemysław Brusik, Wadowice
Bartłomiej Bereza, Katowice – Goliat
SINCERE CONGRATULATIONS TO THE ORGANIZERS AND ALL MEDAL WINNERS, OSU!