NATIONAL OYAMA PKF SEMINAR
Master Kata and the meeting of the board in Turek

Sensei Iwona Mostek from Rzeszów. Photo Radosław Dyduch


On the 7-8 January 2023 the city of Turek held the National OYAMA Polish Karate Federation Seminar devoted to Kata, with participation of nearly 180 people, including: heads of the centres, technical trainings managers, referees, candidates for the upcoming master's examination (Kraków 2023), master's degree holders, brown belts and the participants of the current OYAMA PKF Sport Instructor Course. The meeting was also attended by representatives of Germany and Norway.
Seminar attendees. Photo Radosław Dyduch

The trainings were conducted by the leading trainers of our Federation: Hanshi Jan Dyduch 8 dan, Shihan Andrzej Pierzchała 7 dan (Kraków), Sensei Paweł Pajdak 6 dan (Sosnowiec) and Shihan Witold Choiński 6 dan (Białystok). The Seminar was hosted by Turkowski Klub Karate, headed by Shihan Włodzimierz Rygiert 5 dan.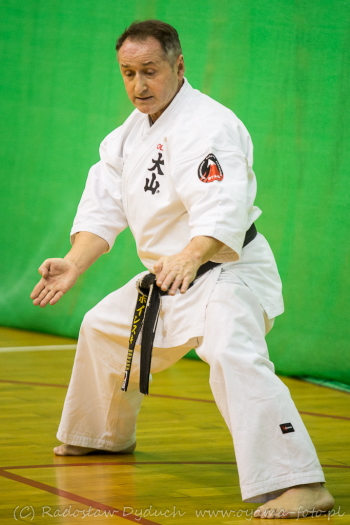 Shihan Witold Choiński during the presentation of Koryu Gojushiho.
Photo Radosław Dyduch

During the Seminar, Hanshi Dyduch taught the SHOTEI kata, together with related applications.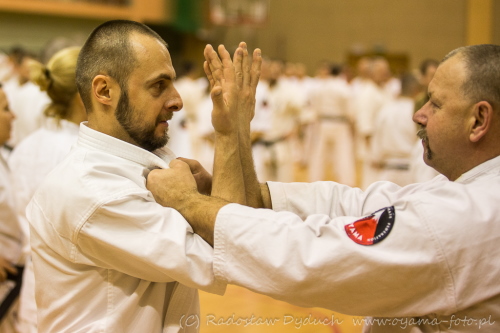 Sensei Adam Sochan and Sensei Rafał Czopek (on the right) during Bunkai.
Photo Radosław Dyduch
Other coaches conducted trainings on improving forms with Kobudo (Bo and Tonfa), as well as Kata without weapons.

Seienchin Kata guided by Shihan Pierzchała.
Photo Radosław Dyduch
Beside that, Hanshi Jan Dyduch conducted a lecture and workshops for the participants of the OYAMA PKF Sport Instructor Course, and Shihan Paweł Pajdak conducted a training for referees in the field of Kata evaluation.

Perfecting kata. Photo Radosław Dyduch
A nationwide meeting was also held in Turek, with participation of nearly 40 heads of OYAMA PKF centres, during which the most important matters regarding the organisational, sports-training and informational activities of the Federation, as well as the relations with other karate federations in the country and abroad.


HANSHI JAN DYDUCH EXPRESSES SINCERE THANKS TO ALL THE PARTICIPANTS
OF THE SEMINAR FOR HIGH ATTENDANCE AND SUCCESSFUL COOPERATION
OSU!